Michelle Folkerts
I have a great love for Cross and Plus type quilt blocks. I have been Pinning all sorts of possible quilt designs using these type of blocks to my Pinterest quilt boards.
I made an Adding Up Nicely quilt using Meadow Mist Designs pattern for a Christmas gift for my Dad this past year. I had a major dilemna in choosing fabrics to make my Dad a quilt. I was not sure what he might like. My Mom had passed away a few months earlier. I knew she loved everything blue and that was what she decorated their house in. They were married for almost 50 years and I am sure she ran the show on how the house was decorated. I did alot of looking at all kinds of fabric lines. I had seen alot of Zen Chic fabrics on Pinterest and lots of quilts made with them and loved them. I came across Zen Chic's Barcelona line of fabrics. It had a nice range of colors from blues, greens, some black and orange. It was modern and had some really geometric designs. I especially liked the one that looks like a city map.  I needed my fabric fast as I had a fast approaching deadline. I chose to purchase from Pink Chalk. I was a first time shopper and loved the idea of a kit of two charm packs and a coordinating set of solids od generous fat eighths (were actually 10 inches wide instead of 9 inches.) The fabric came in the mail in just a few short days so I was ever so thankful.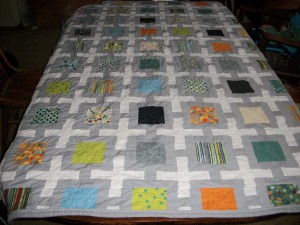 The instructions to Adding Up Nicely were great. I needed 80 charm squares to make the twin size quilt. I chose a nice medium gray solid for my sashing strips with a white background. I had one potentially big problem when sewing this quilt. It was all operator error and none of Cheryl's instructions. I was using a new to me sewing machine that I had inherited from my Mom. I made the big mistake of not checking IF my seam allowances were right on to the needed 1/4 inch. I made up my cross blocks and they turned out nicely. The seams matched up nicely. Well, my blocks ended up smaller than my 5 inch charm squares. My seam allowance was just slightly larger so I kind of freaked out. I had to get this quilt top made. It was my major gift to my Dad. It had to work out and it had to be done like yesterday. I did not have time to completely unstitch all my blocks, so I had to do the unthinkable, and cut down my beautiful Barcelona charm squares to 4.5 inches. After carefully rotary cutting my charm squares to the needed size, my squares matched up nicely to my pieced blocks.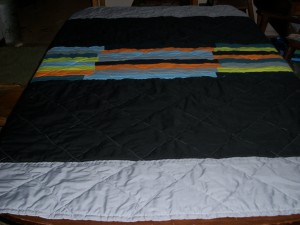 I chose to get creative with the coordinating solid color strips for the backing of my quilt. I pieced them together and sliced them up and pieced back together. I set them in with black solid and the matching gray from the front of the quilt. I really, really like the back of this quilt. My Mom had over 25 bobbins prewound for this machine in various colors. I decided to use every last one of them in the piecing of this quilt. I used the matching gray color as my needle thread. All of the other colors as bobbin colors did not show through, but I knew they were there and it was another way to include Mom in the quilt.  I chose to just do simple Xs quilting through out my blocks. I love how quilts come out fresh from the wash and dryer. Love the wrinkly quilty goodness! I would have liked to get better photos but I was rushed to get it wrapped up and out the door for our Christmas Eve party with Dad. He loved the quilt even the back.  He even asked great questions about the fabric choices. If I put the fabrics together myself, etc?
I am ever so thankful to have figured out my seam allowance problem, by talking over with Cheryl. With this machine, I have to use the inside of pressure foot and move the needle over a step.
Because I liked using this pattern for this quilt, I have decided to use it make quilts for my grandsons' bunk beds. My youngest grandson is obsessed with Scooby Doo. I found this neat Scooby Doo fabric online, but was most happy to find it in my local Walmart store. I purchased what I think was the end of bolt around 5 yards. The Scooby dog pattern ended up larger than I had originally planned for in using this design. I guess the design looked smaller on my computer screen. Cheryl at Meadow Mist Designs helped me enlarge the Adding Up Nicely block design. I am going to be enlarging my blocks up from the finished size of 5 inches to a finished size of 9.5 inches. This gives me a better way of using my grandson's beloved Scooby Doo fabric, and not chop the poor dog up to pieces. This fabric has a lot of teal in it with black background. I usually use alot of white in my quilts, and I have learned it is impossible to keep clean with little boys. I chose to pick yellow as my cross blocks since there was so much of the teal and my daughter suggested pulling up the brown color of Scooby as the other color in my cross blocks.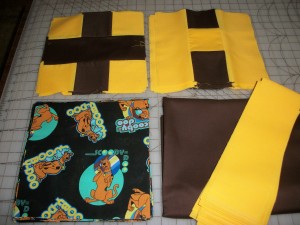 I have my cross blocks all pieced for the first twin size quilt. I discovered I did not have enough of my brown so I had to search for more. I was not able to get back to the store I purchased the original brown solid from, so have chosen as close as a shade as I could for my other grandson's quilt top. I have my new brown fabric cut out into the needed strips, and am in process of making additional blocks needed for the second quilt.  I hope that these quilts will be used as bed spreads for their new bunk beds. I am looking to use a non standard choice for my quilt batting. I started quilting over 20 years ago, and for some of my quilts for nieces and nephews  I chose to use a lightweight cotton fabric as batting. It was a way to save some money at that moment. I ended up enjoying the finished product. The kids quilts ended washing and wearing like iron. I did not have too much trouble sewing through the three layers of cotton. I have made quilts for my littlest grandson for each of his birthdays. He sleeps in a pile of blankets. I thought I might change things up and make these quilts more like a thin bedspread coverlet.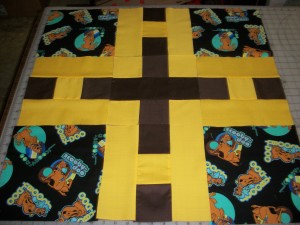 I will be posting updates in the future as my Scooby Doo Adding Up Nicely quilts progress. I have a deadline set of September 27th in time for little guy's 3rd birthday party.
I am linking up with Can I get a Whoop Whoop? linky party ,  Sew Darn Crafty Linky Party  ,  Anything Goes Mondays , Fabric Tuesday and
<a href="http://www.bloglovin.com/blog/12532305/?claim=cgzm2p3f7fz">Follow my blog with Bloglovin</a>
Today I am sharing my largest Work in Progress quilting project.  It is a Queen sized quilt made from the Charming quilt pattern designed by Cheryl at Meadow Mist Designs.
I came across Cheryl and Meadow Mist Designs last Fall, from pinning various quilts of hers to my Pinterest quilting inspiration boards. I was on a search for different cross and/or plus quilt block designs. I first come across her Adding Up Nicely and Charming quilt designs. I really liked the look of her designs and that there was many different options in either the blocks or quilt size. Cheryl has great cutting and sewing instructions.
I had purchased a fat eighth bundle of Moda's Shades of Black fabrics. I was looking for a design to use as many possible black and white prints. Moda's Shades of Black fabric line has white on white, black on black, gray on white and white/black combo prints. The Charming quilt design has two quilt design options, the first would use upwards of 6 charm packs or 245 charm squares or option two allows you to add in some alternate solid color cross/plus blocks and only use 120 charm squares of your favorite prints. I chose to use the second option and add a pop of color with turquoise cross blocks.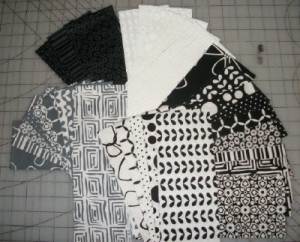 For my fabric choices, I decided to purchase extra black and white print fabrics to add more interest. I set aside the white on white and gray on white prints. I purchased a set of 12 different fat quarters and a set of 50 black and white charm squares from some Ebay and Etsy fabric sellers. This is how I came up with 39 different black and white prints in my quilt top. I cut my own charm squares from the fat eighths and fat quarters. By purchasing the extra fabrics and cutting an extra assortment of 5 inch squares to get the look I had in my head for this quilt, I now have fabric cut ahead that can be used for other quilts. I have 157 extra charm squares plus a pile of 3.5 inch strips from the fat eighths.  If I would add a totally different solid color, like lime green or pink or red, I can have endless different looking quilts.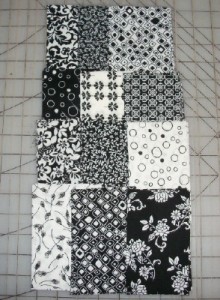 I spent extra time making sure I had an accurate 1/4 inch seam allowance. I had recently changed sewing machines and was creating too large of a seam allowance. I figured out it was needed to use the inside of my presser foot and moving the needle over one stop.  I am in love with the turquoise crosses in this quilt design. I think it gives just the right amount of color.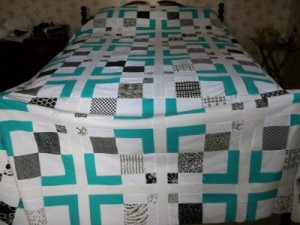 Now my task is to figure out how exactly I want to quilt this quilt. I have made numerous quilts, but not one quite this large. I have never truly attempted free motion quilting on my domestic home sewing machines with much success.  I am quite proud of this quilt top and I want to do it justice and not just use straight line quilting and cross hatches. So today, my quilt top is setting in my to finish bin where it can stay safe and clean.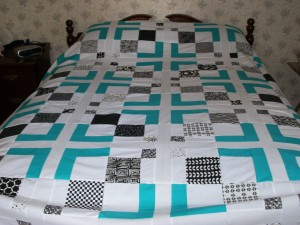 I am linking up with Freshly Pieced Modern Quilts WIP Wednesday,  Needle and Thread Thursday @ My Quilt Infatuation,  And Sew We Craft Together Linky Party  and Sew Darn Crafty @Sew Many Ways.
I am up to hearing any and all suggestions on how other quilters would quilt this design???
I have been looking over some of the photos of my completed quilts. I made this Chain Linked quilt pattern by Amy Smart as a graduation gift for our Niece. This quilt pattern was originally published in 2010 and it comes  up time and time again on Pinterest in so many different fabric combinations. Amy Smart even redid the quilt in more modern fabrics in 2013. I had even Pinned a new modern looking version of this quilt on my Pinterest quilt boards this past weekend. Since it still a favorite of mine, I am looking to make another Chain-Linked quilt in totally different fabrics.
First, I will show my version of the quilt.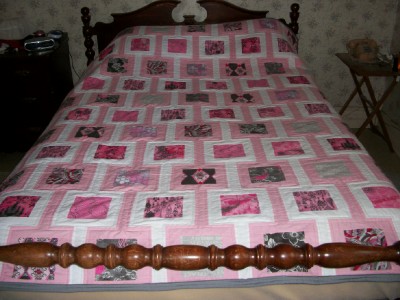 I made this quilt using a line of fabrics called Urban Angel by Studio E.  The prints are great fun with everything from angel wings to chandeliers and dangly earrings. Very girly and some prints have silver glitter to add extra fun. After I first made this quilt,  I honestly did not particularly care for my choice of pink that I used for the chain links. I wondered if I should have chosen a brighter shade of pink. Our Niece loves everything pink so I hoped for the best that she would like it. She loved it!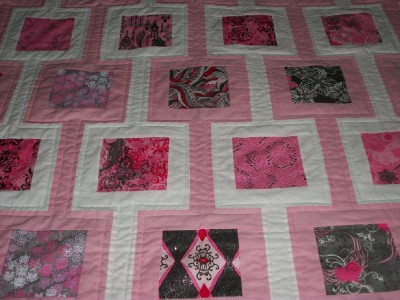 As I started quilting it, I looked at the quilt in a new light. In the end, I really liked how the quilt turned out. I really like the backing fabric I chose. It is a gray and white zebra stripe. I added a brighter pink and medium gray solids to finish off the back of the quilt.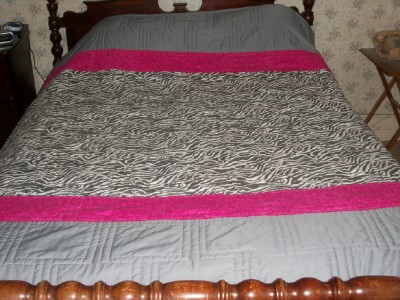 I think this quilt pattern can show case all sorts of fun prints and themed fabrics. I am looking to use the pattern to show off my Nancy Drew Mysteries fabric charm squares. There is so much blues and reds in this line of fabric. I am having a hard time deciding on what two colors to choose as my chain links. Any suggestions??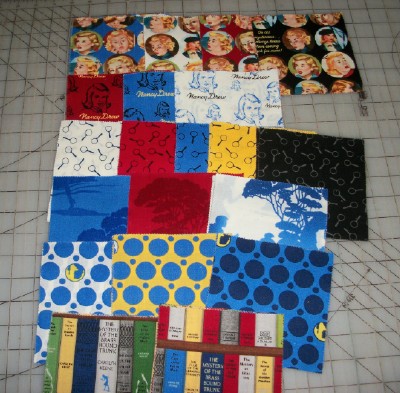 I am linking up with Freemotion by the River Linky Tuesday , Let's Bee Social , I Quilt Thursday @ Pretty Bobbins and Sew Cute Tuesday.
I Love, Love Pinterest and all the cool things you can find on there to make. I find wonderful ideas for future quilting projects, ideas for clothes to make for myself, daughters and grandkids to the most wonderful fattening recipes.
I come across the Pin for the Big Blue Ikea Bag which has a tutorial made by Miss Make. I thought these bags were really cool. I may be one of the few people left on this Earth that has never stepped a foot into an actual IKEA store yet. I see all kinds of lovely items online so I hope to visit some day just to look at their wonderful fabrics alone.
I made two of these bags with red and green nylon fabric that has been in my fabric stash from many moons ago from sewing for my kids.  I thought the bags would be great to hold clothes and laundry for my son and his girlfriend who have to use a laundromat in their college town.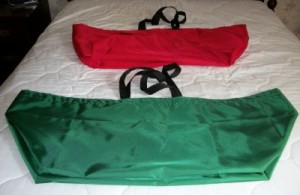 The instructions are pretty straight forward. I decided to finish off my bags with French seams even the gusseted bottom of the bag. It makes it so clean and finished. I chose to only add the 29 inch webbing handles to my bags instead of the double 14 inch and 29 inch handles. I was not sure what the purpose of the double handle was.  I did add in to the side seam a tube of the nylon cloth that was 3 inches by 15 inches folded, sewn and turn right side out on each side of center to use as ties to help hold items into the bag. As an extra step to finish off the top hem of the bag, I added a coordinating color of double fold bias tape that I just happened to have in my sewing supplies. I just love projects that I can make in entirety with materials I have had lying around for "too long".
I am linking up with Sew Can She Show Off Saturday.
Sew Can She is one of my favorite crafting blogs that shares wonderful tutorials of every type of craft you could want. I subscribe to her daily newsletters emails and there is something inspiring every day.  One of my favorite features of her blog is the Show Off Saturday Linky party, where crafters can link up and share their latest craft finishes and works in progress.
Recently I discovered a tutorial for a Kindle case that would fold up and prop your Kindle up for hands free reading. Both my daughter and I had pinned this tutorial to our Pinterest boards, so I thought it had to be a good project to try out.
I used the Prop-Up Kindle Table Case tutorial by The Inspired Wren blog.  I chose a turquoise multi-colored chevron print and turquoise solid cotton fabrics from my stash. This was a winning combination since my daughter loves turquoise and chevrons. She has used both in decorating much of her house.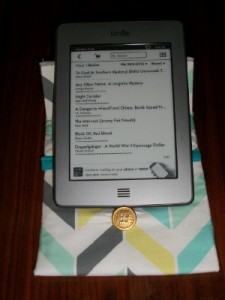 The tutorial's instructions were very well written. I chose to add a layer of fusible batting to the lining fabric while constructing the case. I thought it would provide some extra protection to her Kindle and it helped make the fabric just a little bit more sturdy feeling.  It has been a while since I have had to make any button holes so I was thankful I decided to make a test button hole on scrap material. I forgot that the button hole sewing sequence starts with zigzagging in reverse, so my test button hole ended up on the other side of my markings. After learning that, my button hole on the Kindle case ended up a success the first time on my actual fabric. I found a fun gold metal button that seemed to coordinate nicely with the fabrics also in my sewing supplies stash.  The tutorial called for using cardboard strips to make the boards that are inserted in the case to help hold up the Kindle. I happened to find some old linoleum type tiles in my sewing room that I used previously to make a case for my grandson's tablet. I was lucky the tile pieces were pretty close to the size I needed for this project. I took an old rotary cutter and scored the tile to correct size and was very lucky that they snapped off exactly on the line where I wanted them to.
I really liked how the Kindle case turned out and it does function well as a way to prop and hold the Kindle for hands free reading.
I am linking up my post with SewCanShe Showoff Saturday.
I am linking up this week with Elizabeth Dackson's Don't Call Me Betsy blog. She is holding her first ever Quilty Flashback Friday by sharing one of her first quilts and asking other quilters to share some of their quilting history. I have been a long time reader of her blog and thought it would be fun to participate as well.
Elizabeth and a few of the other quilters were sharing quilts they made from 2010 and earlier. I am sharing my first quilts I made our grandsons in 2010. My actual first quilts were made in the early 90's and quite a few of them I either did not get photos taken of them or have misplaced the photos over the years.
I made our grandson a John Deere quilt using Crazy Mom Quilt's Fair and Square quilt tutorial. I had purchased two sets of fat quarters of 7 different John Deere prints. I had used some of the fabric to make a charity quilt that was auctioned off for a friend who had health issues at the time. Our grandson loves tractors so I thought I would have him a quilt for his bedroom.  The Fair and Square quilt tutorial had great instructions and made a fun quilt.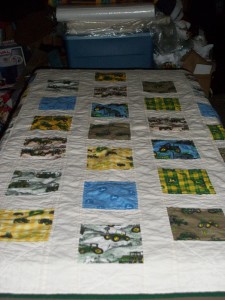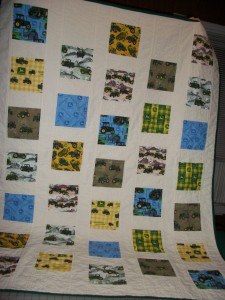 I decided to get extra creative and make the quilt more personalized by appliqueing his name Shaderek to the back of his quilt. I found a font that I liked and sized the letters to the size I wanted and printed them out. I used a light heat and bond to fuse the letters to my quilt backing. I used a satin stitch to machine applique the letters to finish off the edges. I have used this technique to add names to other quilts and all the recipients have loved them.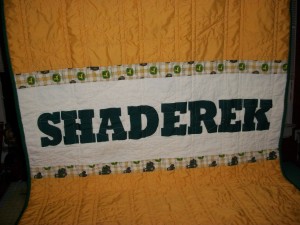 I had some extra fabric left over and decided to play with my circle cutting ruler and cut out circles of the various John Deere fabrics and make a smaller quilt that my grandson could take with him in the car so he could leave the other one at home on his bed.  I cut the circles in 4, 5 and 6 inch diameters. I fused and machine appliqued them in the same fashion as the other quilt and just applied them in a pleasing random row pattern.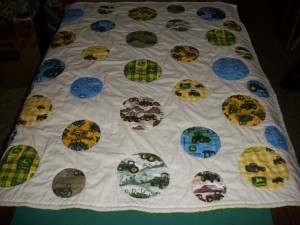 I am linking up with Crazy Mom Quilts Finish It Up Friday.
I thought I would share one of my recent quilt finishes as a Throwback Thursday blog post.
I made the Candy Scraps paper pieced quilt for a graduation gift for our niece. I used the Moda Bake Shop tutorial by Corey Yoder.
I started with 320 little 2.5 inch squares in 18 different shades of red and yellow, that I cut from fat quarters I purchased from JoAnn Fabrics. They were sewn into 160 pairs, paper pieced onto gray lattice strips, added 160 triangles to making 80- 8.5 inch squares. I spent 2 hours just weeding off the 400 strips of paper from the backs of the quilt blocks.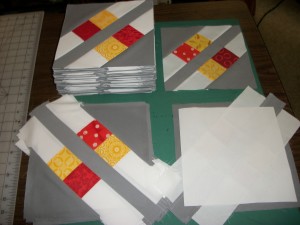 I thought for some reason I had 3 weeks to complete this project, guess I read the calendar wrong as when I started only had 12 days. I got it completed on time, with the help of last 3 nights up to 2 AM sewing. I have not paper pieced a quilt in like 10 years. Oh, this will be easier than strip piecing since I am only having to create one block. Yeah, right. The original quilt pattern only made 48 blocks for a small throw size quilt. Thankfully I can do Math and was able to make it the size I wanted and it actually worked out. I really like how nicely the reds and yellows went together with the gray. I think the red and yellow quilt was well received, especially since our niece is enrolled this fall at Iowa State University.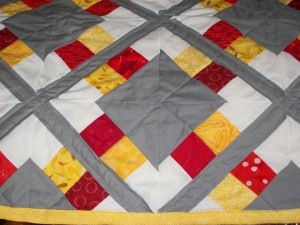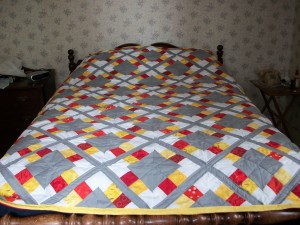 I am also linking up to Show Off Saturday Linky Party over at SewSheCan,  I am linking this post to Linky Tuesday at Freemotion on the River.
Twitter